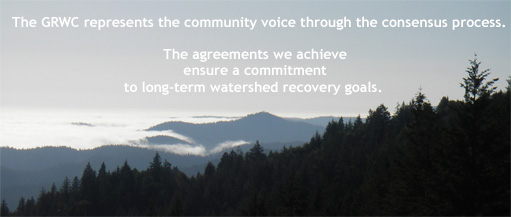 GRWC Mission
The purpose of the Gualala River Watershed Council is to provide an environment for landowners, resource managers, agencies, community organizations and interested citizens to work towards restoring the natural balance of the Gualala River Watershed.
GRWC Goals
To understand, restore and protect the ecosystem of the
Gualala River Watershed.
Understand and monitor the health of the watershed by implementing programs that use sound scientific methods.
Restore the natural processes and improve water Quality and Quantity working towards the attainment goals of the TMDL.
Provide information based on sound science to agencies, the community and landowners to raise critical thought and analysis on issues that impact the watershed.
Encourage stewardship of the natural resources and promote educational opportunities that focus on Best Management Practices, watershed restoration, and watershed health.
History of the GRWC
declines in salmonid populations motivated local citizens to work to restore populations to self-sustaining levels.
a local coalition of restoration organizations, environmental groups, stakeholders and State & Federal Agencies was created in response to the Clean Water Act §303(d) listing of the Gualala.
the coalition formally became the Gualala River Watershed Council.
The GRWC is governed by the Gualala River Watershed, Inc. a 501c(3) non-profit. Our Board of Directors is comprised of nine members representing the community at large, landowners and community organizations.
Within the GRWC a wide variety of groups are working in concert toward understanding, protecting and restoring the Gualala River watershed. Cooperating partners include State and Federal Resource Agencies, local land conservancies, local non-profits, landowners and local businesses.